Nowadays, CBD-infused products are literally everywhere. Some say it relieves their aches and pains, while others say it heals wounds and decreases their anxiety. As this emerging market continues to grow, it's important to have an experienced CBD fulfillment partner to handle all of your logistics challenges.
With a top ecommerce fulfillment provider like Fulfyld, you'll gain a peace of mind knowing that your products are in good hands. We have the very best systems and technology to ensure everything runs as smooth and efficient as possible.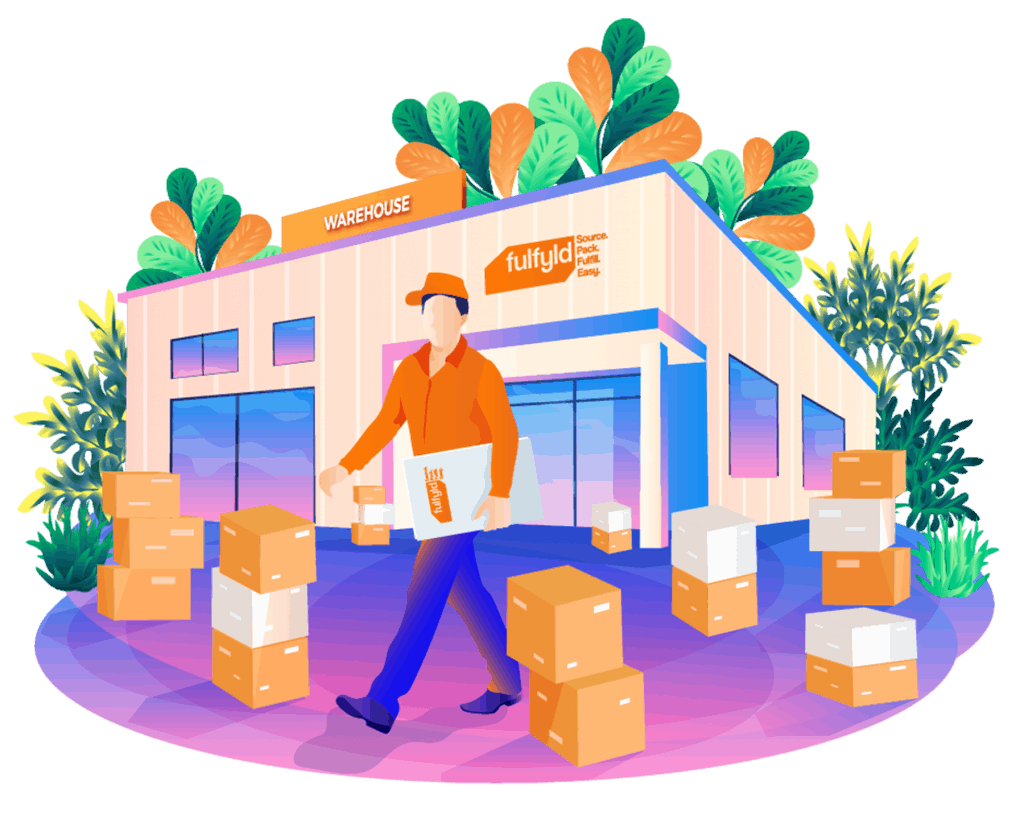 CBD is the abbreviation for Cannabidiol—a compound derived from the cannabis plant. It is one of the many chemical compounds found in marijuana and hemp but unlike Tetrahydrocannabinol (THC), another ingredient found in cannabis, it doesn't cause psychoactive effects.

CBD is currently available in several different forms from oils to creams and is beginning to appear in a variety of products like lotions, pet products and more. Consumers say CBD products have aided in relieving depression, anxiety, chronic pain issues and other conditions.

As of 2018 thanks to the legislation in the Farm Bill, the use of hemp-based products is legal in all 50 states. However, be aware that each state has their own unique set of rules relating to the possession of CBD, so it's best to do your research to remain in compliance of all laws.
In an industry like CBD where the laws and regulations are constantly changing, it's extremely important to have a 3PL partner that continually monitors these regulations and stays abreast of all laws from the federal to the local level. There are several different laws and guidelines that must be followed when shipping CBD products, so finding the right CBD fulfillment partner is greatly beneficial.

All mail carriers are allowed to ship CBD products if the THC levels are below 0.3%. However, some carriers require that these products be shipped in cartons that don't show the contents of the package, so be sure to do your research.
Fulfillment Services We Provide for CBD Sellers
Basically, Fulfyld is your one-stop solution to all 3PL challenges. Whether you're in need of a secure, organized warehouse to store your products or unique custom packaging to set your brand apart, we've got you covered.
How Partnering with Fulfyld Can Help You Grow Your CBD Business
Partnering with Fulfyd makes fulfilling orders easy. We take away the burden of buying a warehouse to store your CBD products or hiring a team of employees to ship the products out for you. By outsourcing your fulfillment, we handle all the things that would otherwise give you a headache like picking, packing and shipping, so you can free up some time to work on more important aspects of your business.  
Our goal is to get your CBD products to your customers as quick and as cost-effective as possible. Plus, as you grow, our simple and scalable business model can meet all of your CBD fulfillment needs at every stage of business.
At Fulfyld, we know how important it is to find the best CBD fulfillment partner to quickly and safely deliver your products.
The 2018 Farm Bill contained legislation that federally legalized CBD derived from hemp plants.
CBD is legal in many other countries; however, it is best to check the laws and regulations of the specific country you desire to sell your products in to make sure you're in compliance with all laws.  
All mail carriers are allowed to ship CBD products if the THC levels are below 0.3%. But again, be sure to do your research as some carriers require that these products are packaged discreetly.
"Fulfyld has been amazing at providing a very hands on experience and approach in all of their services as a fulfillment center. They respond in a timely and kind manner at all times, go above and beyond for us and our customers, and they are very easy to work/ communicate with. We would absolutely recommend their services!"
Haley Seera
Cofounder, FLÎKR Fire
"For 2 years Fulfyld was an intricate part of our day to day operations; always willing to adjust, update and grow alongside AMMD. Their level of service and communication was key to a lot of successful product launches and promotions. Any issues were always treated as top priority and the team worked quickly to obtain and implement the best solution possible."
Amy Myers
CEO, Amy Myers MD
"Simple and transparent pricing, great team. Fulfyld has been a pleasure to work with and has given me back my life. I can now focus on growing my business even more, versus spending my days shipping packages."
Kaustubh Varma
Founder, Mandala Scrubs
"We're thrilled with the support we've received from the Fulfyld team. Our product is is always shipped on time, and the quality assurance is excellent. They're completely dedicated to our partnership."
Peter Spoto
CEO, MaxRelief
"Moving our order fulfillment to Fulfyld has been one of the best decisions we have made. Not only do they take care of our shipping, but they have been very instrumental in helping to organize our entire supply chain. Keep it up!"
Calvin Gee
Cofounder, RAID Fitness
"Our product is shipped, packaged and stored by Fulfyld.com. We've integrated and updated our packaging design, and it's been amazing having their help along the way. They are top notch with same day shipping, and we could not have done it without them. Fulfyld is the way to go."
Brandon Harris
CEO, Jawzrsize