3PL Comparison Chart - Shipbob vs Shipmonk vs ShipHero & Others
Looking for a 3PL Comparison Chart – where Shipbob vs Shipmonk vs ShipHero vs Red Stag and others are compared? Keep on reading!
There are many factors that go into selecting the best 3PL company for your eCommerce business, and it can surely be a challenging task.
As a rule of thumb, a good 3PL should be able to provide several resources as it pertains to storage, ecommerce fulfillment, customer service, branding, expertise in logistics and robust technology.
Here's a quick glimpse at how several fulfillment companies compare to one another so you can choose which is the best based on the alternatives provided below: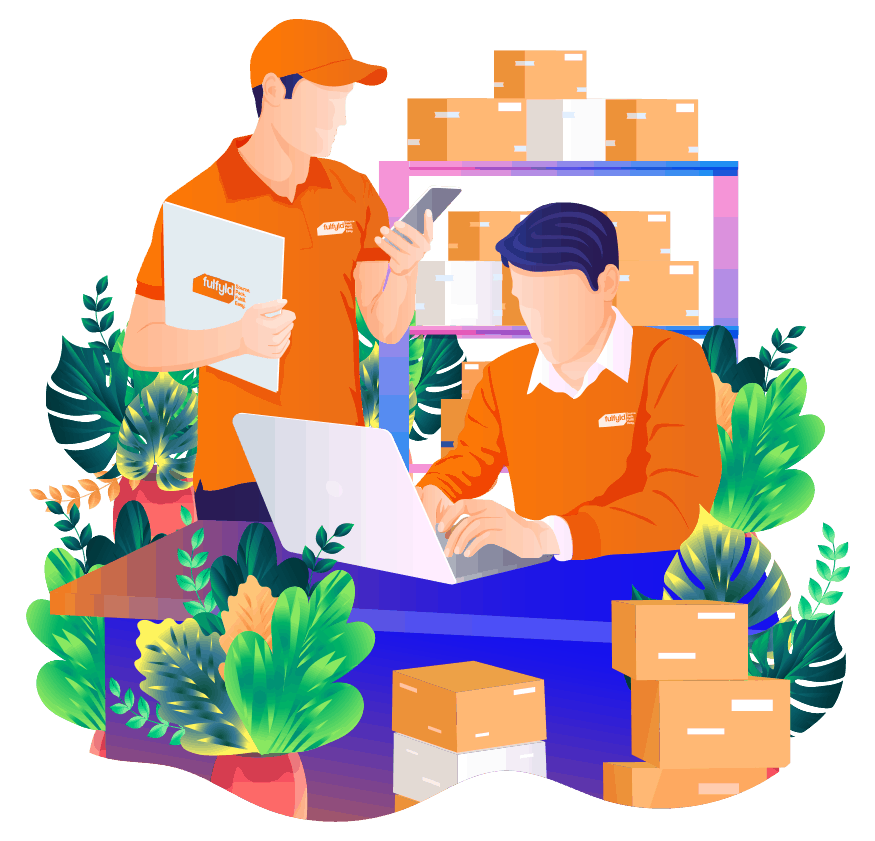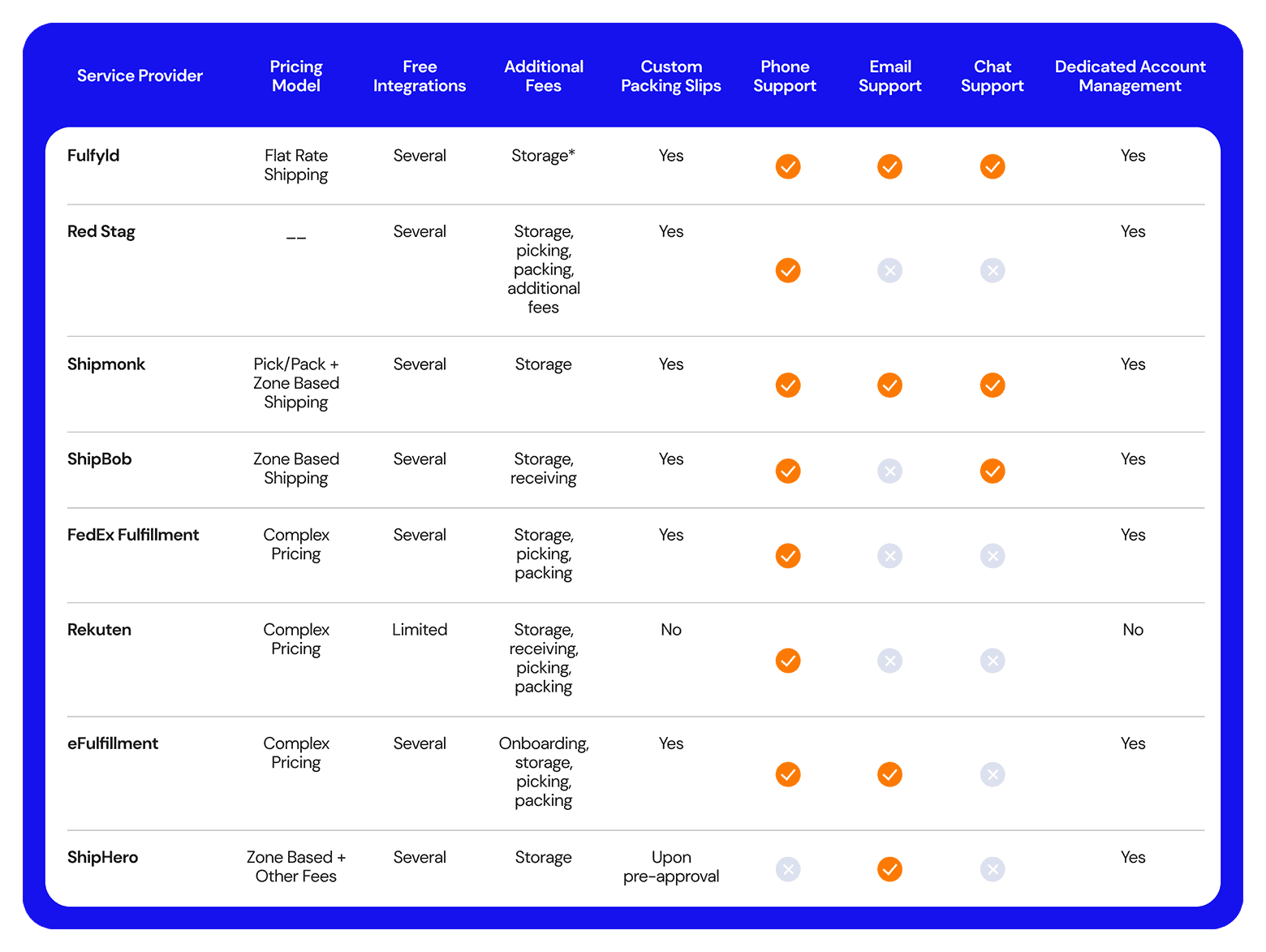 *Standard receiving, picking, packing, shipping label costs, etc. Are covered by your flat-rate pricing.
Red Stag Fulfillment is an ecommerce fulfillment company that focuses on relatively larger and heavier product fulfillment. They are a U.S. based company and are best for businesses who process fewer, bulkier items at a higher price point. Keep reading more below to find some red stag fulfillment alternatives.
– You can send your products to Red Stag for a free 30-day trial to experience their processes and fulfillment services.
– Month-by-month charges for services, no lengthy contract required.

– Not ideal for companies who sell small, lightweight products or lower priced items.


– Must ship using FedEx or UPS to qualify for Red Stag's shipping discounts.
ShipMonk is a fulfillment services provider and inventory management system whose services are highly customizable to meet each of their customers' needs. In case you dont meet the requirements for shipmonk, you can find a few more companies (including us!) to think of when looking for a shipmonk alternative.
– No order minimums for fulfillment order services.
– Quite a bit of flexibility for marketplace integrations.
– Customers frequently complain about customer service issues and the lack of dedicated account management.
– Shipmonk pricing has various hidden costs within their price model.
ShipBob is an ecommerce fulfillment services provider that focuses on providing tech-enabled solutions with their services. ShipBob is a good alternative for small to medium sized ecommerce companies in need of batch fulfillment. Keep reading to see a few other shipbob alternative fulfillment companies.
– Easy set up and integration process.
– Ease of use within ShipBob's software.
– Limited ecommerce platform integrations.
– Complaints of customer service issues and response times with support team.
– Receiving can take up to 7 days, meaning you will not be able to ship for a long time.
– Many brands consider shipbob vs fba when looking at their fulfillment company options.
FedEx is a main shipping carrier in the US that primarily caters to larger companies. Their integrations are limited, and though the service is available, FedEx probably isn't your best fulfillment alternative when it comes to smaller or medium sized companies because of their focus on providing logistics services to large businesses.
– Simple, easy to use platform.
– Access to FedEx's delivery network.
– Customer service quality is inconsistent.

– Product-based batch fulfillment is not available.
Rakuten Super Logistics is a cloud-hosted order management system to fulfill ecommerce services. Inventory and order processing are all handled through their cloud-based software. Because of their size, Rakuten is a good alternative for enterprise companies wanting an alternative to FedEx.
– One to two-day ground shipping across the US.
– Several integrations with online shopping carts and marketplaces.
– Not small business or startup friendly.
– No updated company reviews.
– Customer service can be tricky
eFulfillment Service is an ecommerce order fulfillment provider for small to midsize businesses with cross-docking services for crowdfunders.
– No minimum order volume requirement.
– No extra or hidden fees for small order amounts.
– Not ideal for companies looking to expand into international sales.
– Dated platform
– No updated company reviews.
ShipHero is a cloud-based, warehouse management software to help ecommerce businesses and 3PLs fulfill orders through their desktop software or mobile app. When considering shipbob vs shiphero, its important to note that while both 3pl order fulfillment pricing models are similar, there is a consistent lack of customer service which can badly affect your brand's perception if there are any issues in the warehouse.
– Several integrations to choose from.
– Mobile app for iOS users.
– Software interface and dashboard isn't user-friendly enough for customers. Their software is also reported to be full of errors which can be costly to ecommerce businesses.
– Initial set up requires help from technical support, which has many negative reviews.
– Uses a network of other 3PL's, so customers will end up paying more for services while getting sub-par customer support and high pricing.